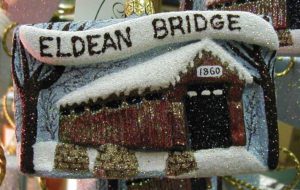 The Christmas season will soon be upon us and the folks at downtown Piqua's Apple Tree Gallery are inviting everyone to stop by their store for a Holiday Open House and to get some Christmas cheer!  The Annual Holiday Open House will be held November 18 through November 20 with a candlelight preview being held on Friday, November 18 from 5 – 9 p.m.
Apple Tree Gallery is well known for their large selection of hand-blown glass ornaments from such noted collections as Mattarusky, Old World and Bethany Lowe.  They also have a huge selection of Elaine Roesle's Snow Children and many other collector favorites.  The store has gifts in every price range and a full line of antiques.  This year, in addition to the many collectibles located in the store, they will also be selling a Longaberger Basket collection of 350 baskets.
The store is brimming with Christmas items and visitors will be greeted with lots of new products including home décor items, candles and figurines.  For more information about Apple Tree Gallery at 773-1801.  They are located at 405 N. Main Street in downtown Piqua.
---