Ohio Chautauqua is Coming to Piqua
Piqua has been selected as the site of the 2018 Ohio Chautauqua.
What is Ohio Chautauqua?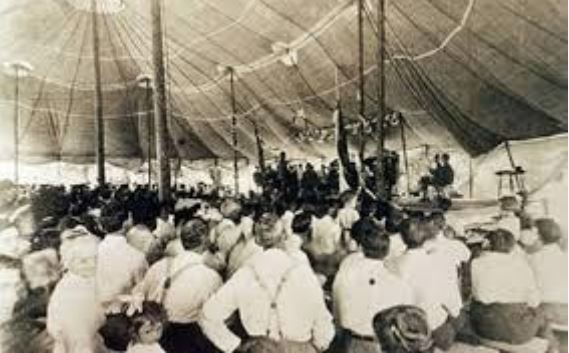 Building on the 19th-Century tradition established on New York's Chautauqua Lake, Ohio Chautauqua is a five-day community event that combines living history performances, music, education and audience participation into a one-of-a kind experience the entire community will enjoy.
The Ohio Humanities presents the Ohio Chautauqua, which promotes the humanities through public programs, grants and community projects to help individuals and communities explore, share and be inspired by the human experience. The Ohio Chautauqua is a memorable event that will enrich, delight and entertain every generation. Daytime activities feature stimulating adult programs and hands-on workshops for youth hosted by local community organizations. Each evening, family and friends gather as live music fills the air. Then, a talented performer appears on stage, bringing a historic figure to life through personal stories and historic detail. This enriching and delightfully    entertaining experience is perfect for every generation. With its warm, nostalgic vibe, this truly unique experience is sure to open minds and start conversation.
The 2018 Ohio Chautauqua will be held in Piqua, Ohio beginning on Tuesday, June 5th and ending on Saturday, June 10th. The evening portion of the event will be held at Hance Pavilion located in Fountain Park. Hance Pavilion was originally constructed in 1921 for the express purpose of hosting local, community Chautauqua activities.
The 2018 featured Chautauqua performers will include:
Erma Bombeck –Hooked on Humor – E. B. White wrote, "Analyzing humor is like dissecting a frog.  Few people are interested and the frog dies." Oh dear, that sounds dangerous. If you dare, join Susan Marie in examining examples, eliciting pointers and braving exercises that bring humor to oral or written stories. No amphibians were harmed in the creation of this performance.  Warning: smiles, chuckles or laughter may ensue. Tuesday, June 5, 2018
Cesar Chavez –  An American labor leader and civil rights activist who, with Dolores Huerta, co-founded the National Farm Workers Association (later the United Farm Workers union, UFW) in 1962. Originally a Mexican American farm worker, Chavez became the best known Latino American civil rights activist, and was strongly promoted by the American labor movement, which was eager to enroll Hispanic members. His public-relations approach to unionism and aggressive but nonviolent tactics made the farm workers' struggle a moral cause with nationwide support. By the late 1970s, his tactics had forced growers to recognize the UFW as the bargaining agent for 50,000 field workers in California and Florida. Wednesday, June 6, 2018
Betty Friedan –  Women in Advertising – In this workshop we'll watch some advertising video clips and then examine how they depict women.  We'll then ask how these images affect the ways women see themselves and the ways they are seen by others. Do these ads influence more than the marketplace? Are there problems today that might be caused by these images? Thursday, June 7, 2018
Benjamin O. Davis – America Emerges as a World Power 1940-1970 – The United States enters WW II as the 19th related world military power in December of 1941 and emerges from the conflict 4 years later as the foremost global super power, building the largest naval and air forces in the world, organizing the largest and most successful economy and developing nuclear weapons. We reorganize the allied nations building alliances around the world i.e. NATO, CENTO and SEATO to define our military positions and sponsor the UN to provide for diplomatic organization of the international community, replacing the failed League of Nations and providing for a new world order. The temporary wartime alliance of the Allied Powers dissolves at the conclusions of hostilities and ensuing East-West tension become a decades-long conflict dubbed the Cold War which remains the overarching strategic element in international relations throughout the 20th Century.  Friday, June 8, 2018
Robert F. Kennedy – Kennedy Men: Father and Sons – Joseph Kennedy would have a son for the presidency. Or was it a president for a son? In this workshop, we'll discuss the Kennedy legacy as Joe Sr. envisioned it. We'll discuss what had made the eldest son Joe Jr. and idealized fit for the Kennedy legacy, how JFK's misgivings of politics had made it difficult for him to embrace his father's expectations, and why by 1968 Bobby had become the best fit for his father's lofty ambitions. Joseph Kennedy Sr. outlived these three sons; what is the impact of Legacy? Saturday, June 9, 2018
Daytime programs are also being scheduled in celebration of the 2018 Ohio Chautauqua.  Those scheduled at this time include:
June 5, 2018 
Robert F. Kennedy – Piqua Rotary Club at Edison State Community College

Benjamin O. Davis – Amos Library
June 6, 2018 
Benjamin O. Davis – WACO in Troy (youth program)  

Betty Friedan – Sidney Historical Society (youth program)
June 7, 2018 
Erma Bombeck – Troy Hayner Cultural Center
Chautauqua assemblies quickly expanded and spread throughout rural America until the mid-1920's. Chautauqua assemblies brought entertainment and culture for the whole community with speakers, teachers, musicians, entertainers, preachers and specialist of the day. President Theodore Roosevelt was quoted as saying that Chautauqua is the "most American thing in America."
Please plan to take a trip back to the 50's, 60's and 70's the first week of June. Add this to your calendar and join us for the 2018 Ohio Chautauqua event.  Look for additional Chautauqua events in your various local, regional media outlets and social media.