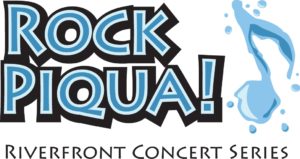 The third year of Rock Piqua! Riverfront Concert Series will see some exciting changes without changing the familiar family friendly concert series. This year's concerts will take place on the third Saturday of June, July and August at Lock Nine Riverfront Park and each concert will start at 7pm with free admission. The focus of the line up has shifted to cover bands this year, so that all the music coming from the stage should be familiar favorites and each concert will feature a different genre of music starting with the 50's-70's in June, country in July and 80's to Today for the final concert in August.
Starting off the series with a bang will be the American Kings. The American Kings are a Dayton, OH band that takes great pride in giving their audience an authentic, fresh and danceable show with true renditions of your favorite Rock N'Roll songs from the 50's and 60's. And because The Kings live a life with a vocabulary that allos the words "sock" and "hop" to still make perfect sense together, you can fully trust them to put on a good show.  Following the American Kings will be Agent 99 from Columbus, OH. Agent 99 is a 6-piece cover band that has been entertaining Ohio, from Lake Erie to the Ohio River, for almost 20 years, delivering a high energy show of carefully selected and masterfully performed seminal pop/rock songs of the 70's to their audiences, defending the musical claim, "The Best Music You Forgot You Loved"! If you're doowopping at this concert you should plan on having some ice cream, as Susie's Big Dipper will be on hand providing sweet treats.
New to Rock Piqua! this year will be a Rock and Roll Car Show. Mainstreet Piqua and Piqua Arts Council have teamed up with the Miami Valley Centre Mall and WPTW 98.1 Classic Hits to include a car show before this concert along South Main St. The car show is open to all cars and trucks of any year, and the first 50 vehicles to register will get dash plaques. The car show will run from 3 to 6pm with awards being announced at 6pm and trophies being handed out by the Miami Valley Centre Mall, WPTW 98.1 Classic Hits, Francis Cricket Wireless and the Rock Piqua! Committee. WPTW will be providing music during the event with Susie's Big Dipper providing ice cream for sale. Artists interested in setting up an automotive themed art booth may contact Piqua Arts Council by phone or email to inquire about space.
The Rock Piqua Riverfront Concert Series will again feature food trucks from around the region at each concert, showcasing their love of their craft. Rock Piqua Riverfront Concert Series is made possible by the support of our sponsors, Headliner Sponsors – Ameriprise Financial – Mullenbrock and Associates, Mark Reedy at Thrivent Financial, Polysource Inc., Francis Cricket Wireless, City of Piqua, and Opening Act Sponors – French Oil Mill Machinery & Co., Koverman Staley Dickerson Insurance, Piqua Pizza Supply Company, WPTW 98.1 Classic Hits, TAM 105.5, Premier Health and the Piqua Community Foundation. For more information about the Rock Piqua Riverfront Concert Series visit the website at www.RockPiqua.com . For sponsorship information call Mainstreet Piqua at 937-773-9355 or Piqua Arts Council at 937-773-9630.
---