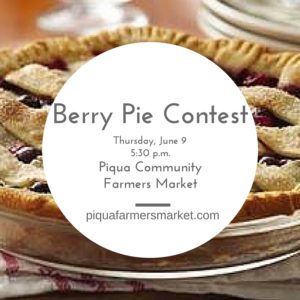 The Piqua Community Farmers Market will be hosting a Berry Pie Baking Contest on Thursday, June 9 at 5:30 p.m.  The contest is open to anyone and in addition to bragging rights the winner will receive Market dollars.
Those wishing to participate in the contest are asked to have their pies at the market by 5:30 p.m. as the judging will get underway shortly after 5:30 p.m.  The Farmers Market is held on High Street in front of the Fort Piqua Plaza each Thursday from 3:30 – 6:30 p.m.
Entries will be judged for taste and appearance and the winners of the contest will win "Market Money" to be used at the Piqua Community Farmers Market.  There will be two divisions; adults and youth.  Youth under the age of 14 may participate in the youth division.   The first place winner will receive $15, the second place will receive $10 and third place will receive $5.  For more information on the Piqua Community Farmers Market Berry Pie Baking Contest please contact Mainstreet Piqua at 773-9355.
---