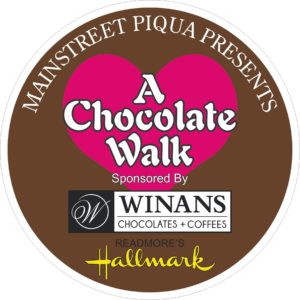 On Friday, October 7 Mainstreet Piqua will be offering a "sweet" fundraiser that promises to put smiles on lots of happy faces.  The 7th Annual Chocolate Walk is scheduled for Friday, October 7 from 5:30 – 8:00 p.m. and during that time ticket holders will walk downtown Piqua, visiting the many participating businesses, and receive a delightful chocolate treat at each stop.
Only 175 tickets will be sold for the event and they are available from Winans Chocolates + Coffees, 310 Spring Street and Readmore's Hallmark, 430 N. Main Street starting on Tuesday, September 6. Tickets are $15 per person.
As ticket holders make their way through the downtown some treats will be enjoyed on the spot and others will be taken home to savor later.  Every participant's bag will be overflowing with an amazing amount of chocolate at the end of the evening.
Winans Chocolates + Coffees and Readmore's Hallmark are the event co-sponsors.  Ticket holders will start at the Winans location at 310 Spring Street where participants will turn in their tickets and pick up their Chocolate Walk bag and a list of participating businesses.   During the evening they will make their way to all the participants to get their treat.  The evening will conclude at Readmore's Hallmark where there will be refreshments and exciting register-to-win opportunities.
For More Information about the Annual Chocolate Walk call Mainstreet Piqua at 773-9355.
---