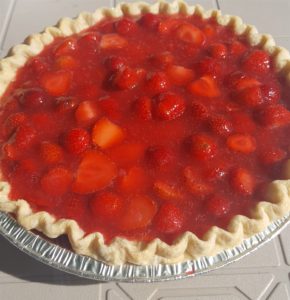 A strawberry pie, baked by Cheryl Burns of Countrymade Baked Goods, was the winner of the Berry Pie contest at the Piqua Community Farmers Market on June 8.  Second place in the competition went to Bill Weldy with a cherry/mixed berry pie and third place was a strawberry rhubarb baked by Kim Davis of Sugar Pie Bakery.  The berry pie contest is the first of several contests to be held at the Piqua Community Farmers Market in the coming months, the next up is a Chocolate Chip Cookie Contest on Thursday, June 29.  The contest gets underway at 5:30 p.m. and the entries will be judged on appearance and taste.
Contestants are encouraged to bring in their family favorite chocolate chip cookies or invent a new one to "wow" the judges.  The winner in each category will win "Market Money" to be used at the Piqua Community Farmers Market. The first place winner will receive $15, the second place will receive $10 and third place will receive $5. For more information on the Piqua Community Farmers Market chocolate chip cookie contest please contact Mainstreet Piqua at 773-9355.  Details of the chocolate chip cookie contest, along with a listing of all the vendors at the Piqua Community Farmers Market, can be found at www.piquafarmersmarket.com
The Piqua Community Farmers Market is held each Thursday from 3:30 – 6:30 p.m. in front of the Piqua Public Library on High Street.
---