What do you do when you want an evening filled with live music, demonstrations by a wide variety of artists, fun activities for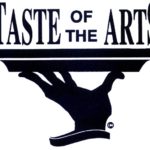 children and families, and samples of wonderful selections from area restaurants? The answer: attend Taste of the Arts on Friday, May 11 from 5 – 9 pm in downtown Piqua. This year we celebrate the 24th anniversary of this event that kicks off the summer season of activities in the downtown area.
Fire up your taste buds to be ready to sample this year's fare, located in two large tents on Ash Street on either side of Main Street.  All the food items are priced according to tickets and the food tickets can be purchased at the ticket booth which is conveniently located between the two restaurant tents on Main Street.  Food tickets are $1 each and food items range from $1 to $4 per item.  Visitors to the event will find a huge variety of different kinds of food offerings at various prices.  To wash down all these tasty delights, a selection of beverages are available at the beverage booth, also conveniently located between the two restaurant tents on Main Street.
This year we welcome back Faith's Pizza, who will be offering three types of pizza to choose from: pepperoni, sausage, and cheese. Pulled pork, smoked beef brisket and smoked baby back ribs are always popular menu items and Hickory River Smokehouse from Tipp City will be on hand to serve your choice of those items.  Mulligan's Pub is back with their house-smoked ribs and their famous Pub Pretzel with either spinach artichoke dip.  The Spot Restaurant will tempt us with their very own Spot hamburger, ham sandwich slider, and who can resist a piece of old fashion cream pie? Piqua's Heritage Events will be serving their teriyaki chicken skewers, B-B-Q wrapped chicken skewers, and seafood pasta jambalaya. The 311 Draft House returns with their Ham and Cheese sliders, savory brat halves, and their signature 311 Draft House chips. Nothing says Taste of the Arts more than Winans Fine Chocolates and Coffees chocolate dipped strawberries and this year the Piqua chocolate institution will also offer a pretzel rod and chocolate covered cookies.
Especially for those with a sweet tooth, Dobo's Delights will have their signature cinnamon roll, decorated cookies and gluten free Monster cookies, and the Turntable Café will be on hand with their cookie dough parfait and cotton candy in a choice of flavors: pink vanilla and blue raspberry.  Another long time participant in Taste of the Arts is Ulbrich's Hometown market and they will have their very popular homemade sausage sandwich, junior maid-rites and strawberry donuts. Lee's Famous Recipe Chicken rounds out the fare with their Famous jumbo breast strips and macaroni and cheese. A special treat this year will be a selection of cookies from Mainstreet Piqua volunteers titled Cookies for Cheryl, to honor Cheryl Stiefel-Francis and her dedication to Taste of the Arts. Proceeds will benefit Hospice of Miami County. Also joining the event this year will be Susie's Big Dipper with delicious ice cream and ice cream sandwiches.
The full Taste of the Arts menu, along with all the pricing, can be downloaded from the www.piquatasteofthearts.com  Visitors to the website will also find the full schedule of events for the evening.  Taste of the Arts is scheduled for Friday, May 11 from 5 – 9 p.m. in downtown Piqua.
---