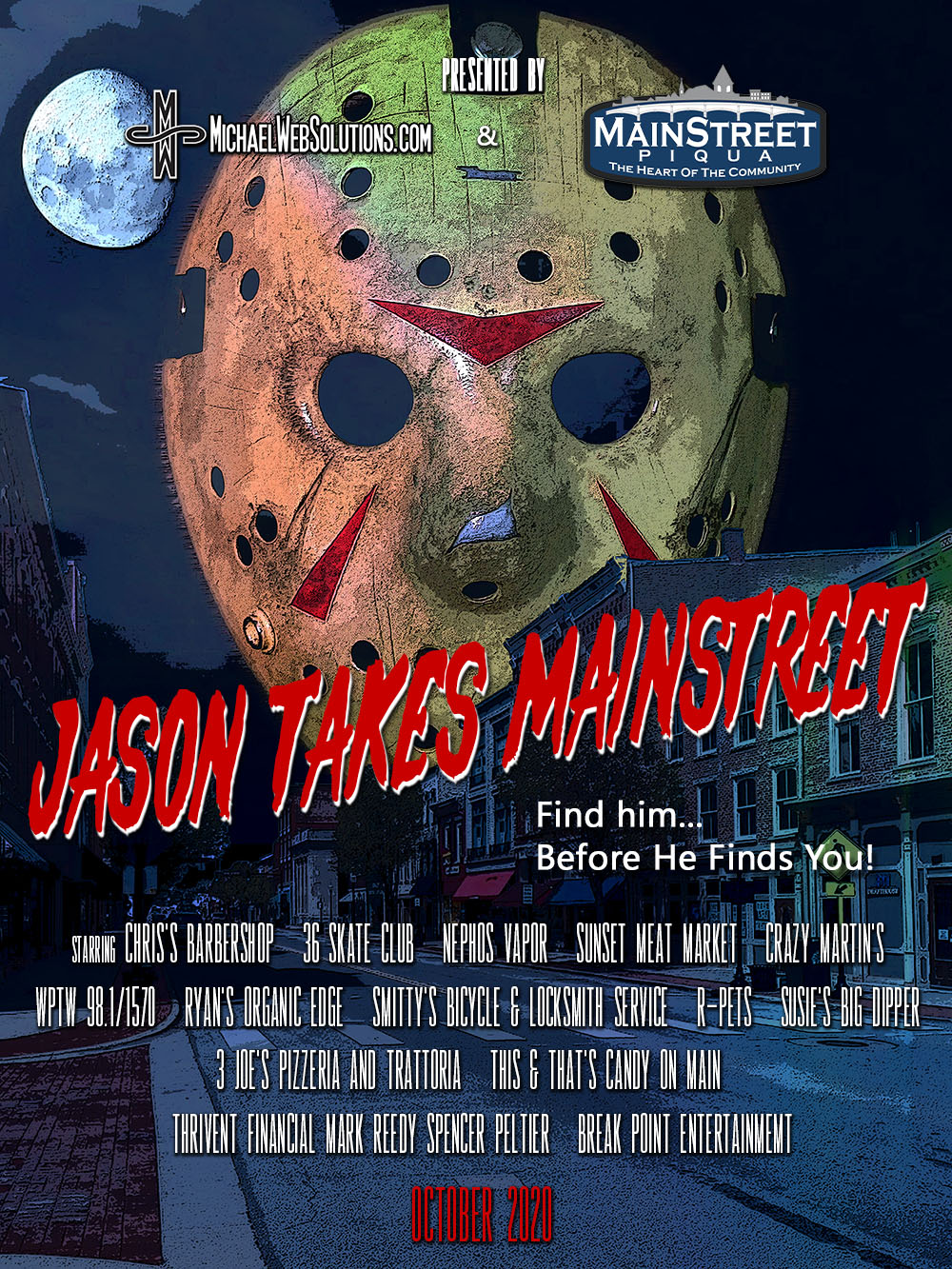 Coming this Thursday, October 1st, to Piqua only…JASON TAKES MAINSTREET!!!
One of our favorite horror movie icons of all time has lost his mask somewhere in Piqua and hey let's face it, in this day in age we all know we can't lose our mask! So help us find Jason's mask before he finds us!
A HUGE thanks to all the AWESOME Piqua businesses starring in this flick! They've all donated towards a very cool prize pack for the lucky individual who finds it!
The rules are as follows:
Go follow the FB page of every sponsor and the Mainstreet Piqua FB page to find your clues. One will be posted daily to one of these pages at 9:10 a.m. until found.
You can also tune into WPTW 98.1/1570 every morning to hear that day's clue announced LIVE on air at 9:10 a.m.
Starting Thursday, Oct. 1st, one clue will be given away daily on a sponsor's FB page until Jason's mask is found. The clues will be vague at first, but easier as each day passes.
Don't start looking until the contest begins. Jason doesn't like it. Plus, he hasn't lost his mask yet so…don't be that person.
The mask can only be found on public property. No schools though. Jason is a big fan of the Piqua Indians so best to just leave them alone…and Edison and the Upper Valley Career Center too ; )
Jason didn't leave it in one of our sponsors' business so don't bother looking there. He definitely encourages going in to each and every one of them and patronizing them though for good luck. ????
Only 3 people in town know where it is.
Once you find Jason's mask, please inbox Mainstreet Piqua or drop it off at the office during normal business hours. The mask is specifically marked to prove you are the winner if you do find it.
NOTE: Do not post or share publicly you found the mask if it is not true. Our has a unique identifier. If you do this you will be instantly disqualified for trying to ruin it for everyone else.
And when you do find it…you will be rewarded.
Good luck!
---