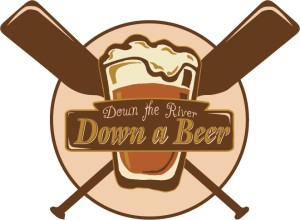 The third annual Down The River, Down A Beer event has been set for Saturday, August 6th at Lock 9 Riverfront Park in downtown Piqua.  The event features river activities including kayak and canoe races along with beer tastings, River Fire Rings, food and entertainment.  This summer's craft  beer tastings will feature  99 varieties from around the world.
The proceeds from the Down The River, Down A Beer are designated for the creation of a River Steward Program for the Upper Miami Valley in cooperation with Edison Community College.  In recognition of the area's original Miami River stewards POWW (Protect our Water Ways) which organizes an  annual river clean-up effort   a donation of $1,000 was made to POWW from 2015's  proceeds.   Down the River Down A Beer is chaired by Jim & Cheryl Burkhardt.  "We wanted to express our appreciation to POWW for their ongoing efforts to clean up and protect the Great Miami River" explained  Jim Burkhardt.  "Protect our Waterways has removed many thousands of pounds of trash from the river over the years and we wanted to recognize and thank them for those efforts."
POWW organizer Jeff Lange was thrilled with the donation.  "We receive a lot of support and grants from the Piqua community and beyond," said Lange, "But there are many expenses associated with the Clean Sweep of The Great Miami River, such as insurance, gas and supplies that are not covered by the donations, so we sincerely appreciate the money and will put it to good use" said Lange, who organizes annual  Clean Sweeps each July and October. Volunteers are needed for the next river sweep on July 16. Those interested should go to www.protectingourwaterways.org    and use the contact tab to send Lange their contact information.
Tickets for Down The River, Down a Beer will be sold later this summer for $30 per person in advance or $35 at the gate.  Attendees will have a chance to bid on silent auction items donated by area breweries and distributors.  There will also be live music and food vendors.  A limited number of wines will be available and reduced-price designated-driver tickets will be sold to non-drinkers.
Production of Down the River, Down a Beer is assisted by Mainstreet Piqua.  Watch this website and Down The River, Down A Beer's Facebook page for additional information and updates including announcement of ticket sale locations and date.   For more information on sponsorship and food vendor opportunities please call Mainstreet Piqua at 773-9355.
---