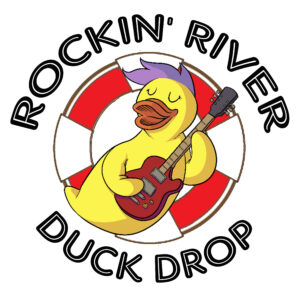 ---
Thank you for swimming on over to the Rockin' River Duck Drop page. By Adopting a Duck from Mainstreet Piqua you are supporting the organization that makes cool things like Taste of the Arts, the Piqua Community Farmers Market and Christmas on the Green happen for our community.
Mainstreet Piqua's sixth annual Rockin' River Duck Drop is set for Saturday, August 21 at Lock 9 Park in downtown Piqua and the rubber duckies are now available for adoption! At 6 p.m. the bright yellow ducks will be released into the Miami River east of Lock 9 Park and the finish line will be close to the Park.
You can purchase your ducks through our PiquaCollectibles.com store.  When we receive your information we will immediately assign numbers to your ducks and they will be put in a vigorous duck training program to get ready for the big drop on August 21.
---
1st Place – $1000 Cash (Donated by Park National Bank)
2nd Place – $500 Landscaping Makeover (Donated by Lillicrap Mulch & Timber Services)
3rd Place – $250 Shopping spree at Barclay's Men's-Women's Clothier
Last and Lazy Duck – Recliner/Rocker (Donated by Town & Country Furniture)
***At the finish line, ten random ducks will be selected and each of those owners will receive a $25 downtown Gift Certificate.***
---
We appreciate the support of our Duck Drop Sponsors:
Park National Bank
AM Leonard
Ticon Paving
Miami Valley Steel
Evenflo
Tom Lillicrap Mulch & Timber
And our prize sponsors:
Park National Bank
Tom Lillicrap Mulch & Timber
Barclay's Men's-Women's Clothier
Town & Country Furniture
---