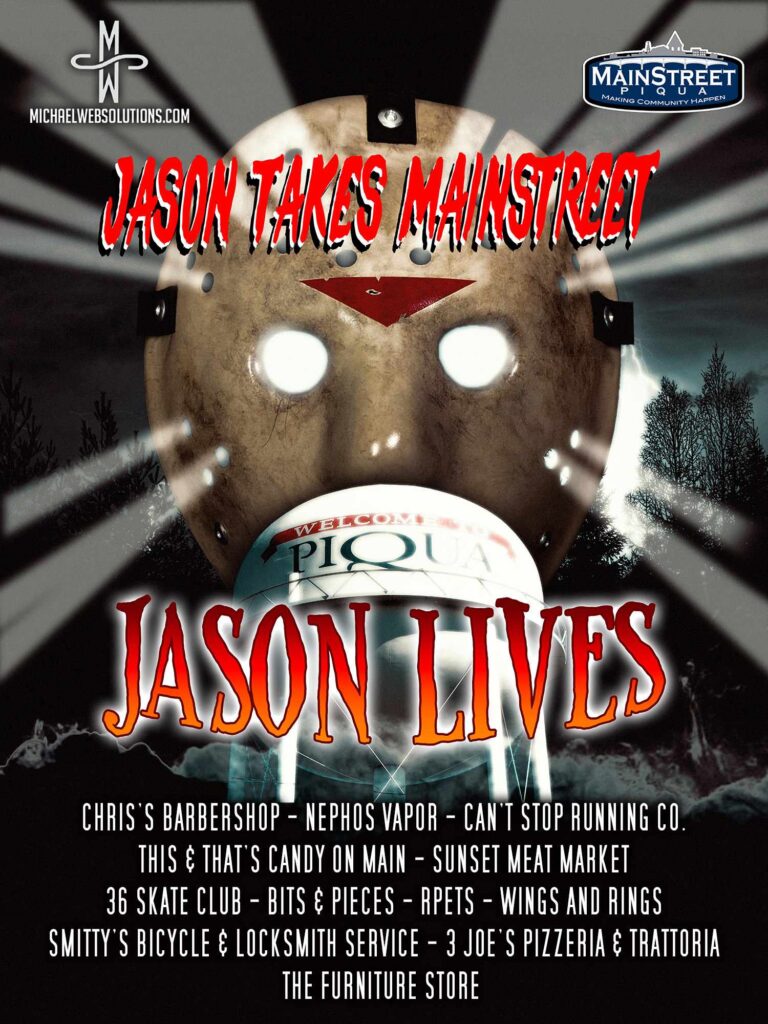 ---
Starting Sunday, Oct. 1st, to Piqua only…JASON RETURNS TO MAINSTREET PIQUA!!!
Heads up all you scavenger hunters!
A HUGE thanks to all the AWESOME Piqua businesses starring in this year's hunt! They've all donated towards a very cool prize pack for the lucky individual who finds it!
The rules are as follows:
Go follow the FB page (List below) of every sponsor and the Mainstreet Piqua FB page to find your clues. A clue will be posted daily once the contest begins to one of these pages at 9:10 a.m. until found.
Please note Jason's mask has been placed in a small, camping dry bag, to help protect it from the weather. This year's mask is a replica of the mask from Friday the 13th VI: Jason Lives.
Starting Sunday, Oct. 1st, one clue will be given away daily on a sponsor's FB page until Jason's mask is found. The clues will be vague at first, but easier as each day passes.
The mask can only be found on public property within the city limits of Piqua. No schools though. Remember, Jason is a big fan of the Piqua Indians so best to just leave them alone…and Edison and the Upper Valley Career Center too ; )
Jason didn't leave it in one of our sponsors' business so don't bother looking there. He definitely encourages going in to each and every one of them and patronizing them though for good luck.
Only 3 people in town know where it is.
Once you find Jason's mask, please inbox Mainstreet Piqua or drop it off at the office during normal business hours. The mask is specifically marked to prove you are the winner if you do find it.
NOTE: Do not post or share publicly you found the mask if it is not true. Our mask has a unique identifier. If you do this you will be instantly disqualified for trying to ruin the fun for everyone else.
And if you are the lucky person to find it…you will be rewarded. ; )
---
SPONSORSHIP CLUE ORDER
To make the clue giveaway order fair for all of our sponsors, we put each sponsor's name into an online randomizer at Random.org. The order for this year's contest is as follows. Each sponsor's name is linked to their Facebook page. Don't forget to go "Like" their page so you can see when each clue drops!
---