The iconic Piqua Fire Department building located on Water Street in downtown Piqua is now available as a Cat's Meow collectible. Cat's Meow Collectibles are exact replicas of a building or landmark on silk-screened custom shaped pieces of wood.
The Piqua Fire Department joins the numerous other Cat's Meow collectibles offered by Mainstreet Piqua including the Fort Piqua Plaza, the Municipal Government Complex, Hance Pavilion, the downtown gazebo, the Veterans Memorial, Piqua Post Office and several Piqua schools including Nicklin, Favorite Hill, Bennett, Wilder, High Street, Piqua High School, Alexander Stadium and the original Washington and Springcreek buildings and the old High School on College Street.
The Fire Department Cat's Meow will be available for the first time at Piqua's Taste of the Arts on Friday, May 20 from 5 – 9 p.m. in downtown Piqua.  The Cat's Meow's will be in the Piqua collectibles tent located behind the beverage booth in the 400 block of N. Main Street. It can also be found at Readmore's Hallmark, 430 N. Main Street, Apple Tree Gallery, 405 N. Main Street and from the Mainstreet Piqua office at 326 N. Main Street.  The cost is $20 per piece.  Those with questions can contact Mainstreet Piqua at 773-9355.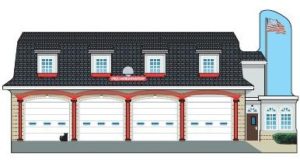 ---